Controlling Your Dog's Internal Parasites and Worms
Just Got a Whole Lot Easier
Protecting your dog from harmful internal parasites is a critical step in keeping your dog healthy. Internal parasites can lead to severe illnesses. Some of your dog's parasites can infect other household pets and even harm humans. Now it's easier than ever to find out if your dog is infected with dangerous parasites and worms.
Zero Egg Count's easy to use Canine Parasite and Worm Stool Test Kits are specifically designed to identify the type and number of internal parasites infecting your dog. Our mail-in test kits contain all the materials you need to test a single dog for internal parasites. All you need to do is Scoop, Seal, and Send a small sample of your dog's stool to our laboratory - its that easy!
Zero Egg Count Parasite Test Kits are used by dog owners, veterinarians, kennel managers, groomers, trainers, and breeders across the United States. Our kits are safe to used on any dog regardless of age or breed. Each kit contains all the materials you need to collect and ship your dog's stool sample to our professional testing laboratory.
+ 1 - Stool Collection System.
Our canine stool collection system consists of a transparent, leakproof, resealable collection bag, biodegradable stool spoon, and a secure-seal shipping bag. Our collection bag and spoon are designed to make collecting and preserving a dog's stool sample, simple and easy while protecting the user's hands from fecal matter. The bag's collapsible design also allows the user to remove excess air from the bag to maintain the stool sample's integrity during shipping, while our secure seal shipping bag provides an extra layer of leakproof protection.
+ 1 - Reusable Freezable Gel Coolant Pack.
Our freezable gel pack keeps your dog's stool sample cool during shipping to prevent parasite eggs from hatching. The gel pack's ingredients are non-toxic and FDA compliant.
+ 1 - Insulated Pre-addressed, Prepaid, Thermal Shielded Shipping Envelope.
Our tear-resistant, cool shield thermal bubble mailer protects its contents from extreme temperatures and rough handling during shipping. The mailer's secure-seal adhesive strip ensures the sample stays locked inside during its journey to the lab.
+ 1 - Parasite and Worm Stool Collection Form.
Our dual-purpose collection and shipping form is used to record a dog owner's contact information and gather pertinent background about the owner's dog. Zero Egg Count lab technicians also use the form to record the type and number of parasites found in a dog's stool sample. The completed form is returned to the dog owner accompanied by their dog's laboratory test results.
+ 1 - Detailed Easy to Follow Collection and Shipping Instructions She
Our Stool Sample and Collection Instruction Sheet includes step-by-step instructions on collecting and shipping a dog's stool sample to our laboratory.
Find out if your dog is hurting.
Dogs ingest and shed parasites at different rates, depending on their environment and care.
Dogs can harbor harmful parasites without displaying symptoms of parasitism such as diarrhea, weight loss or a bloated belly. Additionally, your dog's immunity to harmful parasites is unique. Therefore understanding your dog's level of parasite burden is critical in managing your dog's overall healthcare.
Zero Egg Count Canine Parasite and Worm Test Kit's provide vital information about your dog's parasite burden and the effectiveness of your deworming treatment. Each Zero Egg Count mail-in parasite and worm test kit includes everything you need to collect and safely ship your dog's stool sample to our lab for a thorough and accurate analysis of the parasites your dog is shedding into their environment.
Identifies the type and number of parasites infecting your dog.
Zero Egg Count's comprehensive testing method detects and reports on the type and number of parasites infecting your dog. Your dog's parasite test results are reported in eggs per gram (EPG). Eggs per gram is a standard measure for fecal egg counts which allows you to compare your current findings to previous test results. The higher your dog's EPG count, the higher the number of parasite eggs your dog is shedding into their environment. Your dog's parasite EPG calculation is often referred to as a parasite load or worm burden.
How bad is it?
Zero Egg Count's Parasite and Worm Kit's test results classifies your dog into a shedder categories ranging from ZERO parasites detected to a HIGH of >51 EPG.
Knowing your dog's shedding classification helps you determine an appropriate deworming treatment program. A low shedding dog will typically need less deworming treatments than a medium or high shedder.
"...the only way to monitor pets for the presence of gastrointestinal parasites is to conduct fecal examinations regularly and properly." - Companion Animal Parasite Council (CAPC)
Test Before You Treat
You should test (and treat) according to the region in which your dog lives. Canine parasite or worm egg counts increase in the Spring for dogs living in the northern and midwestern United States with egg counts peaking in the late Summer/Autumn and declining in the Winter months. While in the southern United States, the opposite pattern occurs, with the peak occurring in the Winter months.
Gunner - Southern California
"My name is Gunner, I'm part Siberian Husky and part

Great

Pyrenees 🐶

. My vet used to deworm me even if I didn't need it. Those harsh chemicals made me feel awful. But now my owner uses Zero Egg Count's Canine Parasite and Worm Stool Test Kits to test for which types of parasites are bothering me. Now she only treats me with the right dewormer when I need it. Thank you, Zero Egg Count! I feel much better and 🧡 my owner even more."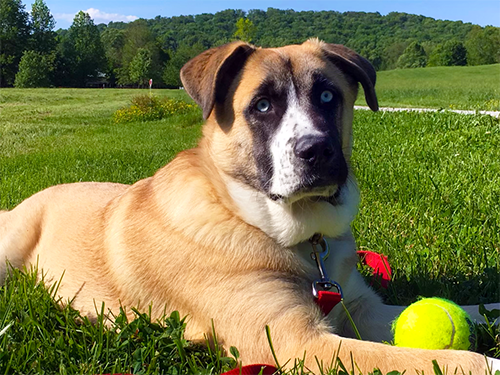 Your Time is Valuable
You want to test your dog for parasites and worms when it works for you!
Some dog owners used to rely on their veterinarians to acquire their dog's stool samples and coordinate the expensive lab testing. However, this means you are limited to taking a fecal when the vet is there, which may not be the right time of year or convenient for you. Also you never know which type of test is being performed, who is testing your dog's stool sample or how much experience they have performing the test.
It may also be difficult for you to get to the vet, or it's time-consuming to go by the vet's office to drop off a sample, or maybe you just want to take control of your dog's healthcare. Zero Egg Count Test Parasite and Worm Stool Kits allow you the freedom to test on your schedule while saving time and money.
Questions? We've Got Answers!
How much does your kit cost?
Our kit's price varies depending on where you choose to purchase the kit. Kits are available on this website, several online pet retailers and some local tack shops and pet stores. Each kit includes everything you need to collect and safely ship a dog's stool sample to our laboratory. Best of all is that all laboratory and shipping charges are included.
What's the difference between your fecal egg count test and a veterinarian's fecal egg count test?
Zero Egg Count's lab uses one of the most sensitive testing technique available. Most veterinarians and reference laboratories use a testing technique which limits the number of parasite egg detection to 25 EPG or greater. Whereas, Zero Egg Count's testing technique uses a technique which has a detection limit of 1 parasite egg per gram (EPG).
How do I know which parasites to test for?
We test for the most common parasites found in dogs such as whipworms, roundworms, hookworms, tapeworms and coccidia. NOTE: A dog's internal parasite test results only indicate the presence of parasites eggs being shed at the time of testing.
How do I collect my dog's manure sample?
You will need to purchase a Zero Egg Count kit for each dog being tested. FRESH IS BEST, so collecting and shipping your dog's stool sample on the same day works great; however, if that is not possible, then remember to refrigerate (not freeze) the sample and ship it as soon as you can. An easy to use sample stool collection system and straight-forward step-by-step instructions are included with every test kit.
Where do I send my dog's sample?
All stool samples should be sent to our laboratory using the self-addressed prepaid shipping envelope included with every kit. Remember to include your email address on your collection and shipping information sheet so we will be able to send your dog's test results to the right place.
When do I get my test results back?
The time it takes for the United States Postal Service to delivery your dog's sample to our lab varies. However our lab technicians will process and email your dog's test results back to you within a few days of your the sample arriving at our laboratory. Don't forget to include a completed Collection and Shipping form with your sample.
What's included in my test results?
Your dog's test results will describe which test was performed, what type, and how many parasite/worm eggs were detected. Test results will also identify your dog's shedder category and provide some next steps.
6 Reasons to Buy Zero Egg Count Test Kits!
🔬 Accurate Test Results 🧪
Our testing laboratory has been serving dog owners and the veterinary community throughout the United States since 1984 and uses one of the most sensitive parasite testing methods available.
Test when you want to test. No waiting on the vet or driving to the vet's office. You pick the time. Just SCOOP, SEAL and SEND - it's that easy.
Just collect a small sample of your dog's stool and mail it to our lab. Everything is included along with a prepaid, pre-addressed, return envelope for one low price.
🐶 Better for your Dog,
Better for the planet 🌎
Less treatment means less toxic chemicals for your dog and less toxic chemicals for the planet.
📄 Easy to Understand Test Results 😀
No scientific jargon to look-up. Just easy to understand descriptions about which parasites were detected and what to do about it.
🧡 Used by Dog Owners like you 🐕
Join the dog owners who have taken control of their dog's healthcare by regularly performing parasite and worm testing.